The Masked Ball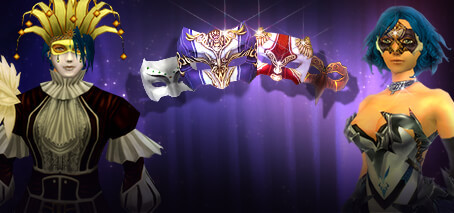 Many moons ago, the barbarians of Candara led a very hard life. But when the seasons were kind to them, and the harvest was rich, they would throw great feasts. Everyone came dressed in their best finery to eat, drink and make merry and dance the summer nights away.
With the passing years, this festival became ever larger and developed into a veritable tradition. In order to bring the people together, the Varanas City Council has commissioned the Phirius Workshops to create exquisite costumes and find a suitably enchanting location for the festival.

Now you can join the party! Starting Thursday, 16th May, we're proudly presenting a host of different pursuits, including our daily quests "Eulogy of Spring" and "Invitation Courier".

Eulogy of Spring

Complete the missions for various NPCs to receive three materials:
Dazzling Pink Four-Leaf Clover
Breath of the Spring Goddess
Pink Four-Leaf Clover
Using these materials, you can create a Ball Mask Package. This may contain the following items:
Advanced Aggregator
Various HP and MP potions
Purple Luxury Noble Mask
Red Luxury Noble Mask
Red Gold-Plated Mask
Purple Gold-Plated Mask
Nocturnal Cat Mask
Purple Mask
Red Mask
Invitation Courier

Collect a Party Invitation and deliver it to the guest at Rain Nahills' behest.
For successfully delivering the invitation, you'll receive a Masked Ball Transformation Potion Package. Open it and pick up two random transformation potions for the Masked Ball.
The transformation lasts for 12 hours and is tradeable!

Want to learn more? Then check out our forums to find full details about the festival activities!

Have fun at the ball!
« Taborean Academy – Drop ...
Taborean Academy - EXP/TP ... »