More Shop Offers for all Taboreans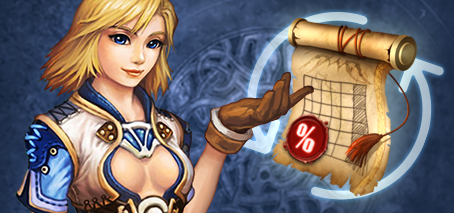 Dear Community,
We are constantly working on our shop and its offers. We would now like to inform you of some improvements that we have made.
Weekly Rotations
As many of you well know, there are heaps of items in Runes of Magic! There are so many that it is not currently possible to display all of them in the shop at once.

We recently made some changes to the shop and have decluttered, making space for our new offerings. Every Monday we will add new articles to the shop offers, comprising costumes, mounts, furniture and pets. These elements will then be available for a whole week and will always be replaced by the next set on Mondays.
The idea behind this is to be able to offer you various items that possibly have not been available for a long time. This then gives you the chance to get specific costumes or mounts that you have been hunting for a long time.
Special Offers
We are also expanding our Special Offers! We will be adding even more special offers to our list and for this reason, we have also made some changes to this section:
The regular weekend offers will be moved from Friday & Saturday to Saturday & Sunday. A daily offer (much like the current 'Sunday Deal') will occur more frequently during the week. So keep an eye out for these deals!
Advanced Stones
One of the first articles that will be included in this one day deal is an item that has never before been on offer: First-Rate Advanced Stones.
These enhancement stones have a mid-level success chance, but there is no danger of the power level of the item reducing if the attempt fails. So remember that while these stones do not guarantee success, they do protect your equipment from downgrading.

Have fun shopping!
The RoM Team
« We're Celebrating 10 Ye ...
Taborea seeks Top-Flight ... »