The Big Christmas Comic Contest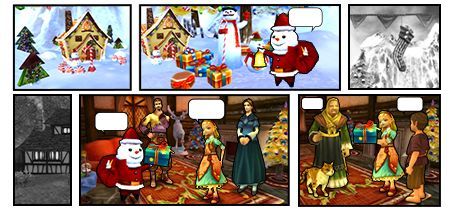 As the air fills with snowflakes and the dancing aromas of spices, everyone in Taborea enters into the festive spirit… the Snowflake Festival has begun!

Everything is ready for you to sit down and relax in front of the fire with your friends and family, a nice cup of hot chocolate to hand. The time has come to tell a few enchanting Christmas tales…
Join in the celebrations by sharing a short Christmas story with us all: create a comic comprising four in-game screenshots around the subject of the Snowflake Festival. Submit your comic by 11:59 PM (CET) on 01.01.2019 and with a bit of luck you could win some great prizes! You'll find more details in our official forum.
Terms and Conditions
Create a small story consisting of four screenshots on the subject of the "Snowflake Festival".
Your submission should consist of up to 4 comic images with speech bubbles and/or short captions.
The text and at least one of your characters must be visible in at least one screenshot.
The submission must consist of in-game screenshots; real photos are not permitted. You may use image editing software to crop the screenshots and add text or special comic effects.
The text should be written in English.
Please note that the user interface should be hidden and in particular chat messages and usernames of third parties should not be recognizable.
The user interface can be hidden using the keyboard combination CTRL + Z – or deactivate 'Show Player Names' from 'Functions > System (Esc) > Interface Settings'.
Each participant may submit only one email with one comic.
Requirements
Use the following subject line for your email: Snowflake Festival Comic Strip.
Your submission must be sent to the following email address: snowflake_comicstrip@runesofmagic.com

Please send the email from the address associated with your game account.  Provide your character name, server and account name, and indicate the name of the mount you would like to receive if you win.
Permissible formats: JPG, .BMP, .PNG, .GIF, .TIFF
Maximum file size for images and screenshots: 50 MB
Prizes
The 3 lucky winners can look forward to the following prizes:
A Christmas mount of your choice (Cookie Mount, Snowflake Mount, Reindeer Mount, Snowflake Sleigh Bear Mount –

Snowflake Festival Mounts are excluded

).
We will select the winners from among all valid submissions and present them in the forums and on social media on 18.01.2019. The winners will be informed of their win by email.
Have fun!
The RoM Team
« The Snowflake Festival Ra ...
Vortis Unbound – The Fi ... »