Anniversary, Guilds and Winners!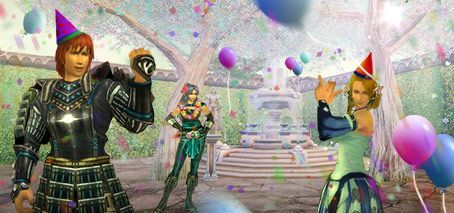 Taborea's looking back over a long and eventful history offering plenty of reason to celebrate. Plagued by years of war and catastrophe, its people have shown immense courage and strength in their unity. Together we have laid the foundations for an amazing future together, in which one thing is certain – you can't have an anniversary without a massive celebration to go with it!
Join the party with your friends and allies and earn rewards for your entire guild!
Send us a screenshot of your anniversary party by 11:59 PM (CET) on 25.03.2018. Full details can be found in the forums. What are you waiting for? Grab your camera and show us why your guild deserves the prizes.
Important:
Please make sure that the user interface is hidden, in particular any chat messages and usernames of third parties. The user interface can be hidden using the keyboard combination CTRL + Z – or deactivate 'Show Player Names' from 'Functions > System (Esc) > Interface Settings'.
The Guild Leaderor a player designated by the guild (in case the Guild Leader is away) should make the submission using the email address associated with their game account. The email should include their character name, the name of the server and the name of the guild.
« Spring Rain Festival
Man's Best Fren »