Runes of Magic Celebrates 8th Anniversary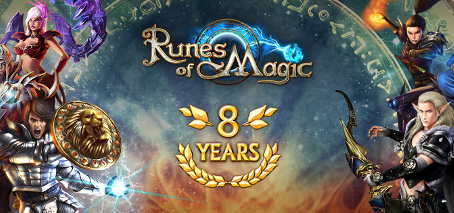 Hello RoMmunity,
It's now 8 years that we've been together. Eight years of ups and downs, where so much has happened both in and around Taborea. With tons of changes, loads of updates and a huge variety of events, this fantastic last year with you was no different.
Plenty of cause for celebration:
We've got a number of great community events in store for you. Keep an eye on our forums for more information, and pay a visit to our Facebook and Twitter pages.
We'd like to thank you for your support and loyalty, and we're looking forward to another great year together, with new zones, spectacular bosses and magical highlights.
Have fun at the party!
« Maintenance - March 21st
Maintenance - March 14th »